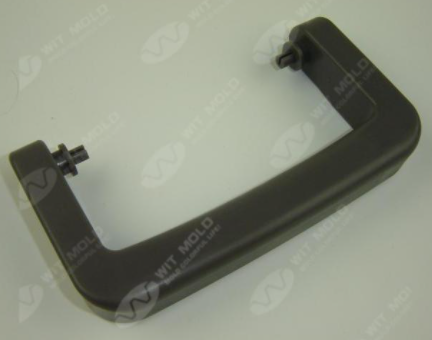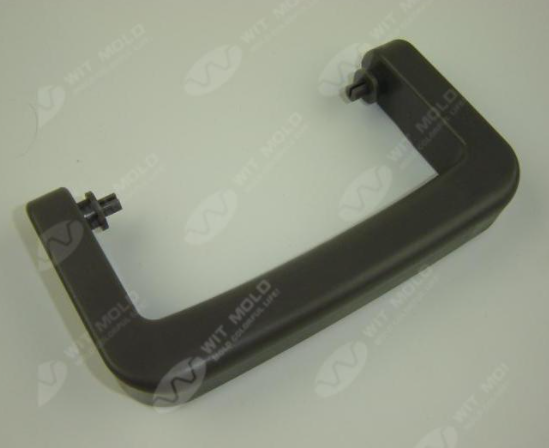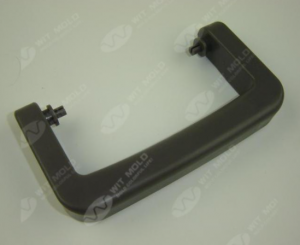 What is Gas Assist Injection Molding?
Gas assist injection molding (GAIM) is an enhanced injection molding process often applied for complex parts, large parts and parts requiring an attractive, cosmetic finish.
The types of parts benefiting most from this process include:
large panels
enclosures
handles
doors and bezels
tube or rod-shaped parts
How Does Gas Assist Work?
The gas assist process is introduced at the finish of the mold filling stage while the resin is still liquid.  Pressurized gas (usually nitrogen) is used in place of pack pressure from the molding machine.  The pressure from the gas completes the filling of the mold cavity, forcing an even distribution of molten resin against the mold. The gas is held inside during the entire cooling phase and then is vented, leaving a hollow void.  For internal gas-assist molding, the void is inside the plastic.  For external gas assist molding, the void is on the outside surface, typically the backside of a part.
Benefits with Gas Assist
The gas-assist process gets results when part design elements make the part difficult to manufacture using straight injection molding.  GAIM allows for more design flexibility while still being able to provide these benefits:
Thin-walled parts with greater strength and rigidity
Creation of hollowed out areas, reducing part weight
Reduction of molded-in stress for improved dimensional stability
Better surface finish with no sink marks
Less part shrinkage and reduced warpage
Design Advantages with Gas Assist
1. Complex Designs
For the design engineer, using GAIM expands design options and helps to minimize design changes to make the part manufacturable using injection molding. One of the greatest benefits is the ability to produce complex parts.  Oftentimes with straight injection molding, parts having different wall thicknesses are molded separately and assembled later.
GAIM allows multiple parts to be combined into one, reducing the need for secondary assembly processes – even if the parts have different wall thicknesses.  This is because gas-assist allows heavy wall sections to intersect thinner ones. Support ribs and bosses can achieve tighter tolerances and be designed larger without fear of sink marks. Gas channels are directed toward these areas and the consistent pressure during the cooling phase eliminates sink marks, associated with these support features, on the front side of the part.
2. Metal Replacement
Gas-assist allows the production of thin-walled components that have solid but hollow areas.  The resulting strength and lightweight part can often replace metal fabricated or die cast parts, and reduce product cost.
3. Large parts
The introduction of gas pressure aids in mold filling, providing uniform pressure throughout the part that lasts through the cooling stage. The result is a part with less shrinkage and reduced warpage. Part weight can also be reduced by creating hollowed out areas.
4. Cosmetic finishes
Where an attractive finished surface is required, gas-assist prevents sink areas that eliminate or at least minimize secondary operations to improve part appearance including sanding and priming.
5. Hollow parts
The gas can create hollowed out areas within parts like handles, which decreases part weight and still provides strength.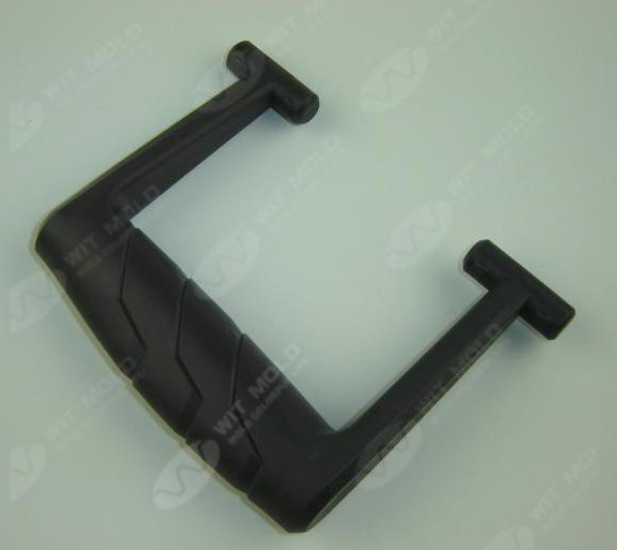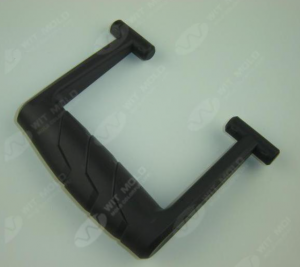 Cost Benefits with Gas Assist
1. Extended Tool Life
With gas-assist, lower clamping force is required because lower pressures are used.  This results in less mold wear extending the life of the tool.
2. Less Energy Cost
With lower clamping force required, larger molds can be used in smaller presses.  Smaller presses consume less power and help to decrease the cost of manufacturing the part.
3. Less Machine Time
A more rapid cooling period helps to reduce cycle time which in turn lowers manufacturing expense per part.
4. Lower Material Cost
Less material is used to produce the part because hollow areas inside of the part are created with the gas and with less resin used, the part cost is lowered.
5. Quality Results
With gas-assist injection molding, the process is typically easier to control than conventional injection molding. A dependable, repeatable process provides consistent production results and less waste.
Common pitfalls
There are many common pitfalls when it comes to Gas Assisted Injection Moulding. Firstly, it is more complex and more expensive to set up than ordinary injection molding. if the tooling price of injection mold shocks you, gas-assisted injection molds will blow you away. Also, by introducing gas into the molding mix, this variable must be precisely tracked, managed and controlled. Without experienced machine operators and technicians, the molding process could go disastrously wrong. The control of the gas also contributes to variable wall thicknesses, especially in tight corners and this is something you generally want to avoid.
Gas Assist Tool Design
If you want to achieve high-quality results, make sure you get the tool design right.
Regardless of what injection molding process will be used, it is important to engage your molder during the early stages of part design in the design for manufacturing (DFM) phase. Tooling cost, timeline, and resulting part quality will be directly impacted by the quality and efficacy of the tool.  When determining the optimal way to mold apart, engineers will consider all product requirements including application, resin selection, and cost considerations. Mold flow analysis is used to find design constraints so that adjustments can be made. When the tooling engineer determines gas-assist is the best solution, the tool will be designed with gas channels built into the mold that will allow the addition of nitrogen gas during the molding process. Determining your molding method early will conserve tooling costs and help to maintain project timelines.  Getting your molder involved early will be critical to a cost-effective, high-quality product.
To learn more about this process or to receive assistance with your project, contact WIT MOLD.